DTU contributions to the Europen project ODICIS
Alexandre Alapetite personal page 2009-2012
Introduction
ODICIS, is a European project on single display cockpit. It stands for "One Display for a Cockpit Interactive Solution" (ACP8-GA-2009-233605, May 2009 – April 2012).
It is lead by Thales Aerospace, and involves 9 partners from 7 EU member states.
In this project, the Technical University of Denmark (DTU) works in particular on human-machine interaction, human factors, part-task evaluations, and validation.
More preciselly, DTU's researchers are from the Section about Safety, Reliability and Human Factors (SPM), of the Department of Management Engineering (MAN).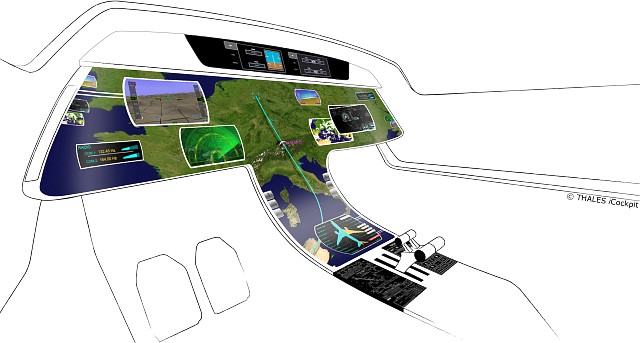 ODICIS artist view by
Thales Avionics
---
Publications
Alexandre Alapetite, Emilie Møllenbach, Anders Stockmarr, Katsumi Minakata, 2018

Advances in Human-Computer Interaction, 2018 (online 19 October 2018), doi:10.1155/2018/2698635

Alexandre Alapetite, Rune Fogh, Henning Boje Andersen, Ali Gürcan Özkil, 2013  

In the proceedings of ACHI'2013, International Conference on Advances in Computer-Human Interactions, Nice, France

Loïc Becouarn, Yannick Le Roux, Sylvain Hourlier, Alexandre Alapetite, Rune Fogh, Henning Boje Andersen, 2013

Patent: "Method for making secure a control on a visualization device with a tactile surface, and associated system"
Applicant: Thales SA. USA patent US20140132555

Loïc Becouarn, Yannick Le Roux, Sylvain Hourlier, Alexandre Alapetite, Rune Fogh, Henning Boje Andersen, 2012

Applicant: Thales SA. French patent FR2998071, European patent EP2731002

Alexandre Alapetite, Rune Fogh, David Zammit-Mangion, Christian Zammit, Ian Agius,

Marco Fabbri

, Marco Pregnolato, Loïc Becouarn, 2012  

In the proceedings of HCI Aero'2012, International Conference on Human-Computer Interaction in Aerospace, Brussels, Belgium

Loïc Becouarn, Alexandre Alapetite, et al., 2012  

From the ODICIS European consortium
---
A "deported view" concept for touch interaction

  Presented on 24 February 2013 at ACHI'2013, the Sixth International Conference on Advances in Computer-Human Interactions, Nice, France
---
Touch interactions during turbulence
DR1 coverage (2010-11-29) of our experiences in Tivoli assessing the effect of turbulences on the use of touch-screens: (in Danish)
Read also:
---
Example of session on the roller coaster "Odinexpressen" for the experiments "touch interactions during turbulence" at Tivoli, 2011-05-25:
---
---